Dad Can't Afford Birthday Gifts For His Daughter. This Will Make You Cry
A video of a Brazilian father celebrating his daughter's birthday in a very simple way has melted hearts worldwide and caused an outpouring of love for the family.
The father from Anapolis, Brazil, is a construction worker and can barely make ends meet, so on his daughter's birthday, he came home with just a piece of cake.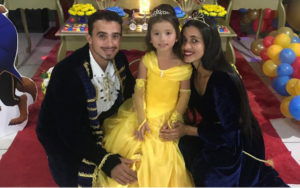 But the video went viral in Brazil and people began contributing so that the little girl could have a dream princess party- which she did.
DISCLAIMER: THIS WEBSITE DOES NOT PROVIDE MEDICAL ADVICE The information, including but not limited to, text, graphics, images and other material contained on this website are for informational purposes only. The purpose of this website is to promote broad consumer understanding and knowledge of various health topics. It is not intended to be a substitute for professional medical advice, diagnosis or treatment. Always seek the advice of your physician or other qualified health care provider with any questions you may have regarding a medical condition or treatment and before undertaking a new health care regimen, and never disregard professional medical advice or delay in seeking it because of something you have read on this website.